Hello Neurochain community,
Welcome to your second edition of Neuro News Weekly, we at the team hoped you enjoyed the first issue, it seemed to get a positive response from the community, and we hope to keep it going.
As always, we are working hard on delivering main net with intensive internal testing going on in preparation for an internal code audit.
It's important to note that you can help with awareness by sharing our posts, newsletters and tweets on all social media platforms.
We currently have over 8000 followers on Twitter so we would like to see a lot more retweets, if you haven't already started let's make a positive effort this week to share our content and reach out to new eyes and potential investors.
Bitcoin is still dominating the market right now touching $5600 this week followed by some profit taking and this has been reflected in prices throughout most Alts as money exits to take up positions in Bitcoin. The Neurochain price in Satoshi's has also been hit of late although its dollar value has been reasonably stable. Through these tough times we ask you to remember that we have no control over the market, and this is and has always been a long-term project. We are confident that once we have a working product with real use cases then the token price will be reflected as such.
So, no doubt many of you will have noticed that Twitter is now much more active, there have been mixed responses by the community over the past week or two but in the main it would appear that you are reacting positively to the increase in tweets.
One of the main issues raised has been that of tweeting random news articles. We appreciate that some may read these articles already, however we have aimed for articles that may have a direct relation to Neurochain or the market that our community would find interesting.
We have taken the comments on board and will refine the articles posted to ensure that they are only related to, or could have an effect on Neurochain in a positive manner as a project.
As mentioned above we appreciate the retweets and ask that everyone possible continues to be pro active in spreading the posts etc.
Hopefully you have had chance to read the recent article on the Paris Blockchain Week, just expanding on from the brief final paragraph Frederic did attend the event and has successfully networked with a lot of important figures from the tech, industrial and blockchain world.
Whilst there he also spoke to Ian Ballina who was attending as a speaker during the presentation of the UNICEF project with Christina Lomazzo(Blockchain lead-UNICEF).
Ian now has Frederic's business card for him to reach out to if he wishes to discuss Neurochain further. This could be a good opportunity in the future to gain some important exposure.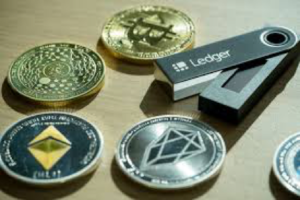 Whilst at the Paris Blockchain week Frederic also met the business growth developer of Ledger as well as the CTO Nicolas Bacca. A lengthy discussion was held about adding the new coin to Ledger once main net is up and running. We can confirm that both the Ledger developer team and Neurochains developer team are in contact with each other and technical validations have begun…. In essence.. it is happening.
As always, we appreciate your support and please feel free to put forward any suggestions to the admin team in the TG channel if you have any. We appreciate all constructive feedback.
Regards
The Neurochain Team