PARIS, FRANCE – NeuroChain announced today that the Test-Net will be released this Wednesday, 31 October 2018 at 12:00 CET, marking the preliminary launch of the first blockchain protocol powered by Machine Learning and Artificial Intelligence. The release of the Test-Net comes three months before the scheduled release of the main NeuroNet in January 2019. During this three-month beta period, both developers and the general public are encouraged to test the NeuroChain protocol and submit feedback on its performance.
What Is NeuroChain?
NeuroChain is the next-generation of blockchain technology that improves the security, reliability, and scalability of current blockchain protocols. It is the first genuinely decentralized, energy-efficient blockchain, powered by Machine Learning and Artificial Intelligence. It is composed of intelligent Bots that execute the consensus protocol to validate transactions. NeuroChain is anticipated to be a game changer in the accounting, supply chain and logistics, and financial services industries, among others, by offering a decentralized platform for smart business applications.
What Is the Test-Net?
The Test-Net is an alternative NeuroChain blockchain, used exclusively for testing. It offers similar functionality to the main NeuroNet, allowing developers and testers to experiment and challenge the technology without deploying applications on the main NeuroNet. The Test-Net uses NCC Test-Net Tokens as the primary mean of trade between nodes, but tokens on the Test-Net are valueless. Additionally, the Test-Net will be used to release protocol upgrades before being deployed on the main NeuroNet. The purpose of the Test-Net is to test the performance of the protocol's security, scalability and consensus algorithm.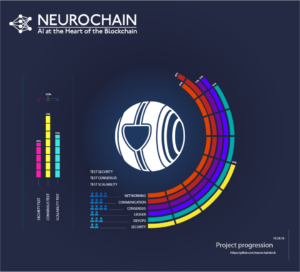 What Are the Technical Specifications of the Test-Net?
The Test-Net includes an initial 50 NeuroChain Bots, or intelligent nodes, and users can connect their Bots to the Test-Net. The Bots communicate with each other and validate transactions using the Proof of Involvement and Integrity (PII) consensus protocol. A group of 100 transactions makes up a single block. Blocks are validated every 15 seconds. A decentralized ledger records validated blocks, and each transaction is available for public review. Developers can integrate smart applications to the Test-Net via an API.
The Test-Net allows developers to test their smart business applications and simultaneously enables the NeuroChain team to test protocols updates. The NeuroChain team will encourage constructive feedback to continue to improve the overall functionality of the NeuroChain protocol.
Getting Started
To access the Test-Net and to download the NeuroChain Bot onto your device:
Remember to leave your comments below about your first experience with our Test-Net!
NeuroChain, let's build a better world!
Follow us on Telegram, Facebook, Twitter, and YouTube. If you have any questions, feel free to get in touch with NeuroChain Team, and we will answer you as soon as possible!